Starting Up
Over four decades ago, Mike Van Mill began doing contract work for a number of area businesses in the family's barn near Shell Rock, IA. In 1973, Mike took up a neighbor's challenge to design and build a larger capacity gravity wagon and Brent Industries was born, named for Mike's eldest son.
Innovation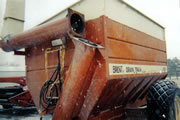 Soon after, being a farmer himself, Mike recognized the growing need to keep the combine harvesting instead of parked while it unloaded. As a result, the first Brent double-auger grain cart made its debut in 1976 and held around 500 bushels. Shortly after the successful launch, production began in sizes ranging from 400 to 1000 bushels.
Recognizing the need for greater simplicity, in February of 1980, Brent introduced the first single-auger grain cart with side discharge in the Midwest, setting a new industry benchmark. The company flourished in the 80s and produced a full line of high-capacity wagons and grain carts and even a cornstalk chopper.
Moving Forward
With a strong desire to expand its marketing presence, Brent Industries was sold to Unverferth Manufacturing in 1988. Soon after the sale, the first single-auger grain cart with a corner-mounted auger was launched. This design has continuously evolved over the years to lead the industry in unloading height, visibility performance and safety features.
In 1998, the double-auger cart was re-introduced with the 1084 Avalanche grain cart. This 1,000 bushel grain cart led the industry in unloading speed and versatility and soon became a leading choice for custom harvesters and other farmers across North America. In 2008, the Avalanche line, with its exclusive pivoting auger, was expanded with 1300 and 1500 bushel capacity models. A few years later, the 2000 bushel model was introduced and most recently a 2500 bushel capacity model.
With ever-increasing sizes of farming operations spread out over miles and even several counties, look to Brent to lead the way in providing the best in grain handling equipment!